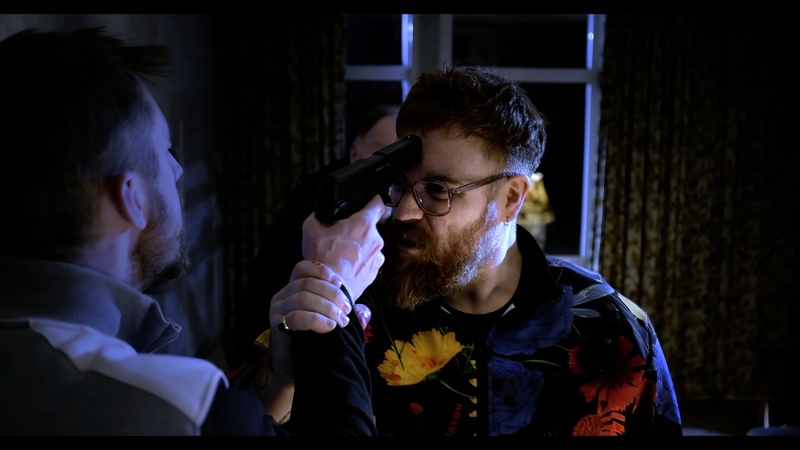 Comedy and Horror Collide in Countryside Chaos
Read Time:
3 Minute, 13 Second
MOVIE REVIEW
Wickedly Evil (Bad Things in the Middle of Nowhere)

–
Genre: Comedy, Horror
Year Released: 2023
Runtime: 1h 37m
Director(s): Garry Walsh
Writer(s): Bryan Walsh, Garry Walsh
Cast: Owen Roe, Louise Bourke, Joseph McGucken, Cat L. Walsh, Andrea Kelly, James Farrelly, Darryl Carter, Liam Cooney
Where To Watch: gets UK digital release on November 13, 2023
---
RAVING REVIEW: In Garry Walsh's directorial debut, WICKEDLY EVIL, we're taken to the Irish countryside for an offbeat blend of horror and comedy. It's a cinematic mix that entices with its intriguing premise and vibrant character dynamics, though it stumbles a bit in execution. The film ambitiously straddles the line between genres, delivering a few chuckles and chills.
---
WICKEDLY EVIL lays out its plot against the backdrop of rural Ireland following a botched heist in Dublin. The leading trio – Frankie, Dancer, and Gaz, portrayed by Joseph McGucken, James Farrelly, and Darryl Carter – finds their getaway plan a mess amidst unexpected complications. Their interactions with Clare (Louise Bourke) and Sadie (Cat L. Walsh) add layers to the plot, escalating the events into a blend of comedic and tragic elements.
Although the film has potential, its narrative pacing hits a few snags. The initial acts meander too long, diminishing the momentum needed for the climactic sequences. The final twist, while imaginative, doesn't quite achieve the depth or impact it aims for, leading to a pivotal act that's brimming with action but needs a fulfilling resolution. There's a lot of potential here, but you have to be able to make it through the parts in between to get there.
Nevertheless, WICKEDLY EVIL shines in certain aspects. Some cast members deliver compelling performances, infusing their characters with desperation and ingenuity. These performances, combined with the script's sporadic wit, inject a dose of entertainment into the film's fabric.
The screenplay occasionally needs to grasp the suspense and tension essential for a genre-blending film. Lengthy dialogues, intended to add depth, sometimes water down the film's suspenseful edge. Director Walsh has a flair for crafting suspenseful moments; the script sometimes uses this strength. It feels like this is a director we'll have to see a little bit more from before we can declare anything.
In conclusion, WICKEDLY EVIL dances on the edge of true cinematic potential. Set in the scenic Irish countryside, it offers a novel combination of horror and comedy. The film's character development and sporadic humor are highlights, yet it needs to achieve a cohesive narrative flow and pacing. Walsh's directorial debut highlights the intricacies of melding different genres into a unified story. While WICKEDLY EVIL presents a laudable attempt at blending humor and horror, it serves as a reminder of the delicate balance required to weave these elements seamlessly in cinema.
For more reviews, please visit https://linktr.ee/overlyhonestmr
Follow me on Letterboxd, Instagram, Twitter, and YouTube. Find my social media accounts on most platforms simply by searching Overly Honest Movie Reviews.
I'm always happy to hear from my readers; please say hi or send me any questions about movies.
[photo courtesy of 101 FILMS]
MY SAG-AFTRA STRIKE STATEMENT:
As an advocate for creators, actors, and writers, I firmly stand with SAG-AFTRA in their current strike. The entertainment industry is built on these individuals' extraordinary talents, and their contributions must be appropriately recognized and rewarded. They deserve fair compensation, sensible work hours, and respect for their creative rights. I believe in the power of unity and collective action, and I'm steadfast in my support for their fight for better working conditions and fair remuneration. Together, we can shape a more equitable future in the entertainment world.
#SAGAFTRA #SAGAFTRAStrong