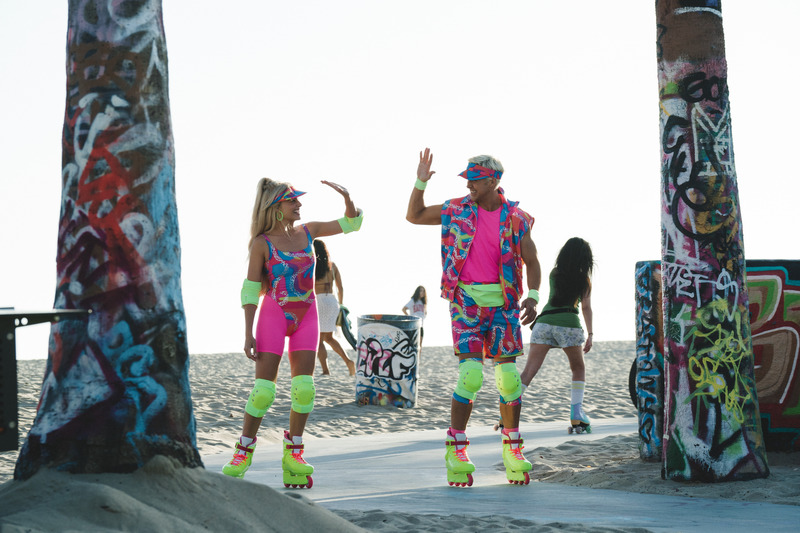 Challenging the Status Quo With Barbie
Read Time:
3 Minute, 16 Second
MOVIE REVIEW
Barbie

–
Genre: Adventure, Comedy, Fantasy
Year Released: 2023
Runtime: 1h 54m
Director(s): Greta Gerwig
Writer(s): Greta Gerwig, Noah Baumbach
Cast: Margot Robbie, Ryan Gosling, America Ferrera, Kate McKinnon, Ariana Greenblatt, Simu Liu
Where To Watch: available now, order here www.amazon.com
---
RAVING REVIEW: Stepping into Barbie Land, thanks to director Greta Gerwig, is like opening a vibrant book of colorful surprises with deeper meaning around every corner. This film, starring Margot Robbie and Ryan Gosling, transcends its plastic origins, weaving a narrative that boldly challenges societal norms and gender roles. From the start, it's clear that this is no ordinary toy story but a sophisticated, satirical exploration of our modern world. However, I wish it could have gone deeper, even more meta.
---
Greta Gerwig's BARBIE is not just a stroll through childhood nostalgia but a vibrant, insightful journey that shines a light on the entrenched norms of society. As the titular character, Margot Robbie embarks on an existential adventure, questioning the perfection of Barbie Land. Ryan Gosling's Ken emerges as more than an accessory, adding substance and depth to this intriguing exploration. The film was so much edgier than I expected, but after tasting how intense it was, all I could hope for was a sharper blade. That's not a knock on the film, and I think it's impressive that they were allowed to do what they did.
In collaboration with partner and screenwriter Noah Baumbach, Gerwig ventures into uncharted territory with BARBIE. Peeling back layers of the iconic doll's world, examining the unrealistic beauty standards and entrenched gender stereotypes. The partnership with Mattel adds a nuanced layer, skillfully balancing a critique of consumerism with a nod to the very product at the film's heart.
BARBIE's brilliance lies in its inventive satire, flipping conventional gender roles to offer a refreshing and sometimes startling perspective on contemporary societal norms. The film's feminist stance is both timely and potent, contributing meaningfully to the discourse on gender equality in a manner that's as entertaining as it is thought-provoking. That message bumped my rating up by at least half a star; it's such a vital message to all the young girls nationwide!
The casting choices are one of the film's highlights. Robbie and Gosling breathe life into Barbie and Ken, offering nuanced and layered performances. Their interpretations transcend the superficial, lending complexity to these globally recognized figures. Helen Mirren's elegant narration further enriches the narrative, adding a layer of sophistication. As a whole, the casting was brilliant, including most of the supporting cast as well. Visually, BARBIE is a feast for the eyes, crafting a colorful, imaginative world that captivates the audience.
BARBIE stands out as a unique film experience. It masterfully combines humor and societal critique, sprinkled with absurdity, resulting in a film that is as entertaining as it is thought-provoking. It encourages viewers to consider the impact of cultural icons on our perception of self and society.
In conclusion, BARBIE is much more than a story about a doll. It's a visually stunning, cleverly crafted film that tackles significant societal issues with wit and intelligence. It invites the audience to reflect on the broader implications of cultural symbols and their role in shaping our lives. This film marks a notable addition to contemporary cinema's landscape, providing entertainment and a platform for meaningful dialogue.
For more reviews, please visit https://linktr.ee/overlyhonestmr.
Follow me on Letterboxd, Instagram, Twitter, and YouTube. Find my social media accounts on most platforms simply by searching Overly Honest Movie Reviews.
I'm always happy to hear from my readers; please say hi or send me any questions about movies.
[photo courtesy of WARNER BROS. HOME ENTERTAINMENT]