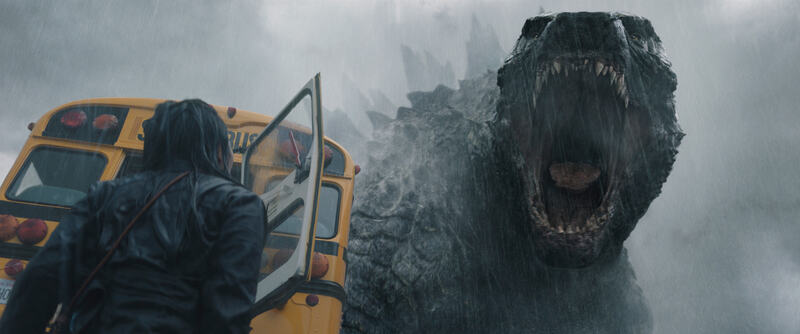 A New Era in MonsterVerse Unfolds
Read Time:
3 Minute, 21 Second
TV SERIES REVIEW
Monarch: Legacy of Monsters
TV-Y –
(episodes 1-8)
Genre: Action, Adventure, Sci-Fi
Year Released: 2023
Runtime: 10 x 45m episodes
Developed by: Chris Black, Matt Fraction
Cast: Kurt Russell, Wyatt Russell, Anna Sawai, Kiersey Clemons, Ren Watabe, Mari Yamamoto, Anders Holm, Joe Tippett, Elisa Lasowski
Where To Watch: the first two episodes will be released on Apple TV+ on November 17, 2023, with the remaining episodes released weekly on Fridays through January 12, 2024
---
RAVING REVIEW: Stepping into the world of MONARCH: LEGACY OF MONSTERS opens a portal to two eras – the 1950s and the complex modern-day post-2014 Godzilla era. This series isn't just about the colossal kaiju; it's an intricate exploration of human tales woven into the fabric of the MonsterVerse. It's a narrative adventure that offers a refreshing take on a genre often dominated by titanic clashes. No fear, though; although this is a ground-level series about the people in this universe, I promise you it's not without the giant titans we desire.
---
In MONARCH: LEGACY OF MONSTERS, we embark on a time-hopping journey that begins in the 1950s, immersing us in the early days of the enigmatic Monarch agency. This era introduces us to a trailblazing trio – Bill Randa (Anders Holm), the cryptozoologist; Keiko (Mari Yamamoto), the scientist; and Lee Shaw (Wyatt Russell), the soldier. Their riveting escapades lay the groundwork for what Monarch is destined to become. As the narrative leaps to 2015, a fresh ensemble takes the reins: Cate Randa (Anna Sawai), Kentaro (Ren Watabe), May (Kiersey Clemons), an older Lee Shaw (Kurt Russell) delve into the inner workings of Monarch, uncovering layers of intrigue and family ties.
Developed by the visionary duo Chris Black and Matt Fraction, this series marks a groundbreaking addition to the MonsterVerse. It distinguishes itself by stepping away from the spectacle of kaiju and focusing instead on human narratives, thus creating a more grounded and emotionally resonant experience. This shift in narrative focus is evident in the contrasting tones of the two timelines. The 50s storyline bubbles with humor and charm, brought to life by Holm's dynamic portrayal of Bill Randa and Yamamoto's depiction of Keiko. The modern-day storyline, in contrast, paints a grimmer picture, highlighting the weighty consequences of a world where humanity coexists with these creatures.
Character development is the lifeblood of MONARCH: LEGACY OF MONSTERS, a point of reference that the MonsterVerse had struggled with a little in the past. In her portrayal of Cate Randa, Sawai anchors the series with a performance that adds depth and nuance to the genre. The creative decision to cast Kurt and Wyatt Russell as Lee Shaw at different points in time adds a unique thread of continuity, offering viewers a captivating glimpse into the evolution of a character across decades.
A significant highlight of MONARCH: LEGACY OF MONSTERS is its exceptional production quality. The series masterfully balances state-of-the-art special effects with a sense of realism, avoiding an overreliance on CGI. The direction and cinematography are fantastic, though there's room for the series to amplify its visual storytelling further to match its narrative ambitions' scale fully.
MONARCH: LEGACY OF MONSTERS is a monumental and imaginative extension of the MonsterVerse. It skillfully intertwines family drama, mystery, and high-stakes adventure elements, maintaining a harmonious balance between its timelines. Supported by solid character development and performances, the series is an engaging and novel experience, sure to captivate both ardent MonsterVerse enthusiasts and those new to this titanic realm.
For more reviews, please visit https://linktr.ee/overlyhonestmr
Follow me on Letterboxd, Instagram, Twitter, and YouTube. Find my social media accounts on most platforms simply by searching Overly Honest Movie Reviews.
I'm always happy to hear from my readers; please say hi or send me any questions about movies.
[photo courtesy of APPLE TV+]