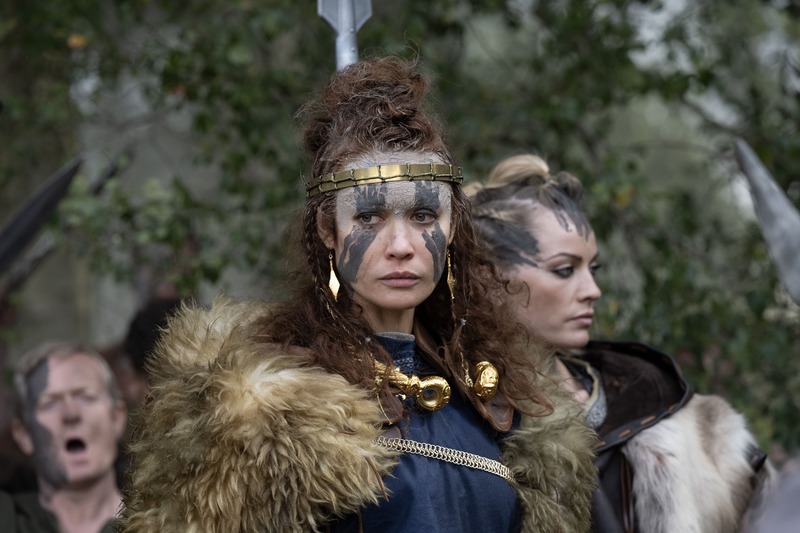 A Queen's Fiery Spirit Ignites the Screen
Read Time:
3 Minute, 16 Second
MOVIE REVIEW
Boudica: Queen of War

–
Genre: Action, Drama
Year Released: 2023
Runtime: 1h 41m
Director(s): Jesse V. Johnson
Writer(s): Jesse V. Johnson
Cast: Olga Kurylenko, Clive Standen, Peter Franzén, Lucy Martin, James Faulkner, Rita Tushingham, Harry Kirton, Andy Beckwith
Where To Watch: in select theaters, on demand, and digital October 27, 2023
---
RAVING REVIEW: Prepare to be transported, not just through time but into the soul of a queen whose name became synonymous with defiance. BOUDICA: QUEEN OF WAR is Director Jesse V. Johnson's interpretation of history, mingling raw warfare with supernatural whispers around every corner. It is anchored by a performance from Olga Kurylenko that can only be described as power and courage personified. Without giving too much away, know this: Your heart will race, and you'll find yourself rallying behind the battle cries in this vibrant historical reimagining.
---
Delving into the narrative, Johnson presents us with more than a historical figure, offering a flesh-and-blood Boudica, with Kurylenko throwing herself into the character's emotional upheaval. From the tranquility of royalty to the turbulent path of a warrior, her metamorphosis is a saga. The film avoids the trap of dry historical ramblings for the most part, favoring a canvas where spectral visions and mythical elements are painted alongside brutal combat scenes, adding layers to a character already rich with historical lore. There are some moments in the film where the dialogue drives the film more than I prefer; editing to slim that down a bit could make a difference.
The supernatural elements are not merely for show; they amplify the queen's legendary status. This creative risk pays off, setting BOUDICA: QUEEN OF WAR apart from more dry historical dramas. Johnson's Boudica is a figure of almost mythic proportions, commanding not only armies but the forces of destiny itself.
While the film's battle scenes might not feature the grandeur of colossal armies clashing on sprawling fields, they have an intimacy often missing in more enormous spectacles. Johnson opts for a more personal touch, bringing the audience into the heart of the fray, where they feel the desperation and cunning of guerrilla warfare.
The supporting cast adds a rich backdrop to Kurylenko's lead, providing emotional gravitas and more entertaining moments amidst the rebellion's chaos. They complement Boudica's fierce persona, ensuring the narrative isn't solely a one-woman show.
BOUDICA: QUEEN OF WAR is a cinematic experience that melds historical drama with creative liberties, crafting a narrative that's as engaging as it is impactful. While the film has a few flaws in pacing, it is a compelling narrative about defiance, resilience, and the sheer force of will. This is a film you watch for the experience; the adrenaline of the story pumps through your veins as you become part of the film.
For more reviews, please visit – https://linktr.ee/Overlyhonestmoviereviews for more info.
Follow me on Letterboxd, Instagram, Twitter, and YouTube. Find my social media accounts on most platforms simply by searching Overly Honest Movie Reviews.
I'm always happy to hear from my readers; please say hi or send me any questions about movies.
[photo courtesy of SABAN FILMS]
MY SAG-AFTRA STRIKE STATEMENT:
As an advocate for creators, actors, and writers, I firmly stand with SAG-AFTRA in their current strike. The entertainment industry is built on these individuals' extraordinary talents, and their contributions must be appropriately recognized and rewarded. They deserve fair compensation, sensible work hours, and respect for their creative rights. I believe in the power of unity and collective action, and I'm steadfast in my support for their fight for better working conditions and fair remuneration. Together, we can shape a more equitable future in the entertainment world.
#SAGAFTRA #SAGAFTRAStrong