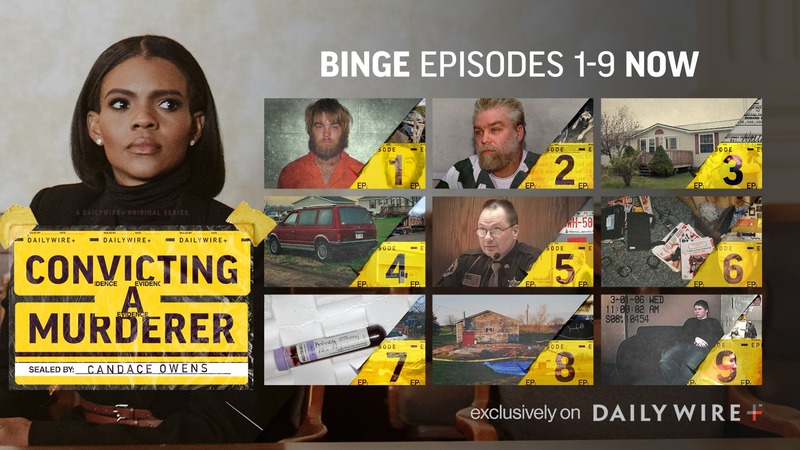 The Dilemma of Documenting
Read Time:
3 Minute, 53 Second
MOVIE REVIEW
Convicting A Murderer – Episode 10

(adult content)
Genre: Documentary
Year Released: 2023 –
Runtime: 10 x 45m episodes
Where To Watch: Episode ten will be live on DailyWire+ tomorrow. Episodes 1-9 are now available; Ep 1-2 are in front of the DailyWire+ paywall, and three onward are for members only.
See my reviews for previous episodes here:
Episodes 1-3 here: mailnewsgroup.com/ohmr/murky-waters-of-legal-drama
Episode 4 here: mailnewsgroup.com/ohmr/shifting-perspectives-engaging-narratives
Episode 5 here: mailnewsgroup.com/ohmr/officers-roles-under-microscope
Episode 6 here: mailnewsgroup.com/ohmr/conjectures-courtrooms-and-candace-owens
Episode 7 here: mailnewsgroup.com/ohmr/navigating-through-evidence-fog
Episode 8 here: mailnewsgroup.com/ohmr/disturbing-details-unearthed-and-questioned
Episode 9 here: mailnewsgroup.com/ohmr/uncomfortable-revelations-unpacked
---
RAVING REVIEW: Buckle up, viewers! As you embark on the conclusion of CONVICTING A MURDERER, brace yourself for a blend of mystery, intrigue, and those "aha!" moments we all secretly crave. You're about to witness the culmination of a saga and an intricate dance between reality and the narrative. This final chapter isn't just about solving the Avery case; it's a mirror held up to the filmmaking world itself.
---
Owens, with her insights, steals the show in this tenth installment. As she delves into the series' depiction of Steven Avery, one can't help but play the game of "Where's the Director's Intention?" Did we simply take in the story, or were our perspectives molded? In an era where the line between news and narrative is increasingly fuzzy, Owens forces us to ponder upon the transformative power of media – enlightening at times, deceptive at others. It's the ultimate irony because we're asked to question the directors of Netflix's MAKING A MURDERER while she sits in the same seat from the other side.
While the series weaves its tale, the heart-rending story of Teresa Halbach is explored further, anchoring our emotions. As Owens navigates this narrative, we're reminded of her abruptly halted life. How do filmmakers balance creating captivating content and respecting real-life narratives?
The unmistakable genetic markers tied to Teresa surge forward as the evidence trail leads us to a certain point. Yet, even indisputable facts can sometimes take a backseat to dramatic flair in the vast world of cinema. The FBI was dedicated to finding the facts, and I won't lie; the pieces that were left out of the other story make you wonder why.
The plot thickens as we delve into the complex relationship dynamics between Steven Avery and the original documentary creators. Their professed impartiality clashes with the undertones of a more profound connection. It beckons the eternal question – when does unbiased storytelling morph into advocacy?
Legal twists further entangle this tale. With privileges granted by the legal system, the filmmakers, along with Steven's legal counsel, push boundaries to capture those moments on camera. This subplot is worthy of a thriller in its own right, forcing viewers to discern intention from action.
CONVICTING A MURDERER is not just a replay of events. It dives headfirst into the Avery enigma while also highlighting the challenges of documentary filmmaking. It's a take that prods at the media's significant role in molding perceptions. And as the series concludes, it offers a cinematic ending, urging viewers to discern the truths hidden beneath the edits and cuts. After all, it's not just cinema, and it's a revelation!
For more reviews, please visit – https://linktr.ee/Overlyhonestmoviereviews for more info.
Follow me on Letterboxd, Instagram, Twitter, and YouTube. Find my social media accounts on most platforms simply by searching Overly Honest Movie Reviews.
I'm always happy to hear from my readers; please say hi or send me any questions about movies.
[photo courtesy of DAILY WIRE+]
MY SAG-AFTRA STRIKE STATEMENT:
As an advocate for creators, actors, and writers, I firmly stand with SAG-AFTRA in their current strike. The entertainment industry is built on these individuals' extraordinary talents, and their contributions must be appropriately recognized and rewarded. They deserve fair compensation, sensible work hours, and respect for their creative rights. I believe in the power of unity and collective action, and I'm steadfast in my support for their fight for better working conditions and fair remuneration. Together, we can shape a more equitable future in the entertainment world.
#SAGAFTRA #SAGAFTRAStrong