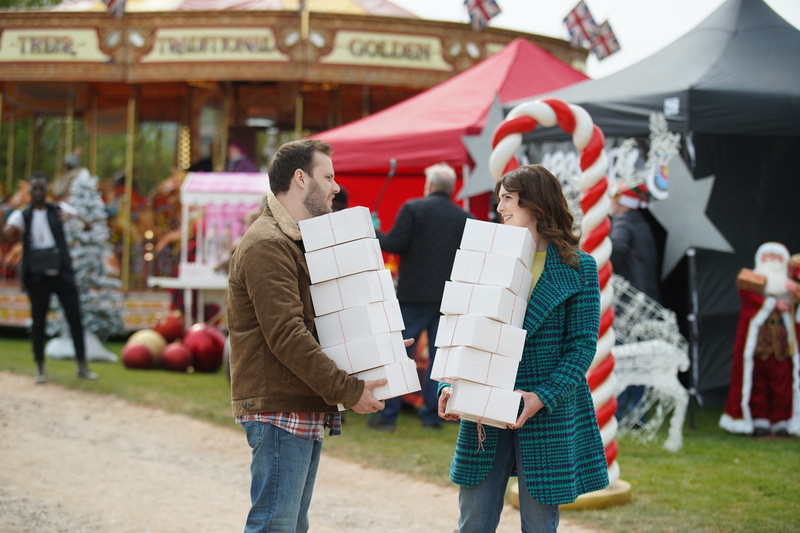 Heartfelt Performances Amidst Holiday Clichés
Read Time:
3 Minute, 15 Second
MOVIE REVIEW
Christmas at The Holly Day Inn

– 
Genre: Comedy, Drama, Family
Year Released: 2023
Runtime: 1h 34m
Director(s): Monika Gergelova, Adam Wilson
Writer(s): Lisa Chapman
Cast: Anita Dobson, Tamla Kari, Colin Baker, Kevin Leslie, Philip Martin Brown, Mark Arnold, Mike Beckingham, Christine During
Where To Watch: released on digital November 6, 2023
---
RAVING REVIEW: As we settle in for CHRISTMAS AT THE HOLLY DAY INN, we expect the familiar warmth of a holiday flick. It promises a blend of humor, romance, and Christmas magic wrapped in a picturesque British countryside. But does it deliver the festive feast it sets out to present? Let's unwrap this cinematic present together.
---
In the heart of rural Britain lies the Holly Day Inn, a once-bustling haven now facing the grim possibility of a modern takeover. Enter Emma Holly, portrayed with charm by Tamla Kari. After a career misstep, she finds solace in the family inn, hoping to infuse it with newfound vibrancy and protect it from the looming corporate shadow.
The inn's struggles are mirrored in the financial predicaments of Emma's father, Ben (Colin Baker). His heartfelt performance as a beleaguered father and innkeeper adds a touch of authenticity to the otherwise familiar storyline. The narrative tries to spice things up with romance between Ben and local café owner Molly (Anita Dobson), aiming to stir the pot with passion.
Amidst the tinsel and mistletoe, Emma's life intersects with the enigmatic Oliver, played by Kevin Leslie. A chance encounter, fueled by a flat tire, ignites a series of events rife with romantic potential and misunderstandings. However, the romance that follows is as predictable as the plot of most holiday Hallmark films, needing more spark and spontaneity to truly captivate.
The cast is a beacon of light in the winter's night, delivering performances that shine brighter than the material they're given. Tamla Kari embodies Emma with a genuine heart, while Colin Baker anchors the film with a warmth that radiates through the screen. The ensemble, featuring stalwarts like Philip Martin Brown and Mark Arnold, contributes to the quaint charm that permeates the film.
CHRISTMAS AT THE HOLLY DAY INN tries to escape its many holiday tropes, but it feels like a sleigh running on autopilot. The scenic backdrop is a delightful holiday card come to life, yet the plot struggles to find its footing amidst the snow-covered clichés.
Its heart is in the right place, even if the execution sometimes feels off. The film's lack of narrative innovation is its Achilles' heel, preventing it from soaring beyond the confines of its genre. There are only so many takes that a Christmas story narrative can have.
CHRISTMAS AT THE HOLLY DAY INN is comforting and familiar and has moments that make you smile, but it lacks the zest that leaves a lasting impression. It's a film best suited for casual viewing, perhaps while cozying up by the fireplace, but it's unlikely to become a staple in your annual holiday film marathon.
For more reviews, please visit – https://linktr.ee/Overlyhonestmoviereviews for more info.
Follow me on Letterboxd, Instagram, Twitter, and YouTube. Find my social media accounts on most platforms simply by searching Overly Honest Movie Reviews.
I'm always happy to hear from my readers; please say hi or send me any questions about movies.
[photo courtesy of 101 FILMS]
MY SAG-AFTRA STRIKE STATEMENT:
As an advocate for creators, actors, and writers, I firmly stand with SAG-AFTRA in their current strike. The entertainment industry is built on these individuals' extraordinary talents, and their contributions must be appropriately recognized and rewarded. They deserve fair compensation, sensible work hours, and respect for their creative rights. I believe in the power of unity and collective action, and I'm steadfast in my support for their fight for better working conditions and fair remuneration. Together, we can shape a more equitable future in the entertainment world.
#SAGAFTRA #SAGAFTRAStrong